My personal approach to #PlasticFreeJuly:
Set personally realistic goals to reduce plastic

#NEED2LEAD – Communicate the need for one-way plastic alternatives and the responsibility manufactures have in driving sustainable change
Hands up if you are feeling overwhelmed by Plastic Free July 🙋
Shortly before the start of July, and therefore 'Plastic Free July', I did the weekly shop and was feeling entirely overwhelmed at the prospect of giving it a go. In this post, I present a few ways I am approaching the challenge in a more manageable, yet still impactful way.
When I started out on my Better Me Green mission, I noted that I was irritated by the all or nothing attitudes and overwhelming goals, on the About BMG page I wrote: Terms like zero–waste and plastic-free often feel so unattainable and leave me intimidated and clueless as where to start. Not only do I still stand by that, over the months I have become more and more convinced that it is off-putting for the large majority of people.
I definitely want to give Plastic Free July a go, but I will certainly not be beating myself up about not being 100% plastic free. Why, because this is a topic that is far more complex than just ourselves and we need to make those responsible along product supply chains aware that we consumers want alternatives.
Before I highlight what I am doing to address the issue, here are a three plastics statistics to highlight the problem:
Here are 3 ways I am tackling the challenge:
Shopping more critically

Learning about my personal plastic habits to see what I can systematically change

#NEED2LEAD – Start using my voice as a consumer to address the fact that manufacturers need to take responsibility in leading a change in what materials are used to package their products. 
Shopping
When I go shopping, I am of course trying to avoid unnecessary plastics, e.g. we already buy the likes of yogurt and milk in glass bottles, so I will be looking for more swaps. On top of that, before paying, I am going to check my basket and remove 3 items which are plastic packed that I don't really need. Also, I will make more of an effort to go to my local package free shop.
Learning at home habits
Each week, I am keeping an extra close eye on the plastic packaging I do acquire. Rather than disposing/recycling my packaging directly, I have a box to collect plastics in, so at the end of each week I get a clearer picture of where my plastic-habits lie and see if I can find an alternative.
By the end of the month, I want to have found 10 alternatives to plastic packaged items I previously bought. I know that treats like crisps and cookies are going to be amongst the rubbish and I have already found a few homemade crisp recipes from BBC Good Food and Jamie Oliver to try out when I have other things cooking in the oven 😃.
#NEED2LEAD – Focusing on manufacturers behind the plastic-packaged products
Over the next weeks, using social media, I will be highlighting well know products that I am choosing not to buy because of their packaging and letting those companies know by tagging them, along with hashtags #NEED2LEAD, #PlasticFreeJuly.
This is why….
With the busy lives we lead today, the convenience mind-set has become the absolute norm. Considering food, with limited time and often money, we are increasingly drawn to quick, pre-prepared options. However, whilst the short-term benefit for one meal may be practical, it is coming with a huge price for the environment. I firmly believe manufacturing companies must be held accountable for how they are bringing products to the market. Looking at this consultancy.org article on The 50 largest FMCG companies (FMCG = Fast Moving Consumer Goods), we see renowned food and beverage companies such as Nestle, Procter & Gamble, Pepsico, Unilever and Coca-Cola. With the profits they make, number of people they employ and research centres they run, these companies need to be held far more accountable for the packaging they are creating to bring products to the market. There are solutions out there, they just need to be further developed and implemented. Have a look at this Northern Lights Article about drinking bottles made from algae as just one example.
I will leave you with a few swaps I have already made, and would love to hear your suggestions on how I can do more.
Thanks for reading
Your Better Me Greener
Charlotte
Homemade cookies instead of shop bought.
They taste soooo much better too!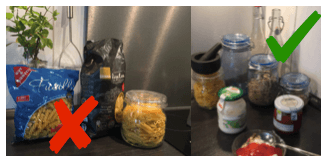 Dried goods, such as paste, rice, lentils from my the local package-free shop. You've checked but don't have one near yet? Try buying bigger packs, this also helps.