A beginners up-cycle delight to be proud of
The goal of challenge #10:
Recycle and reuse a piece of furniture
Supporting Sustainable Development Goal 9
Think of innovative ways to repurpose old material.
Go straight to the step-by-step guide
I am a tight-rope creative!
There are times when my (rare) artistic bursts are navigated from start to finish, but mostly they end in me falling off a short creative streak and half finished attempts being left … well, half finished 🙄
That said, I have always loved the concept of up-cycling, so with new motivation from my Better Me Green commitment I decided to tackle my biggest project yet! 
We have been living in Dennis' grandmas house, the lovely Lisa from challenge #6, whilst we find our feet in Germany. The time spent there has been really wonderful as it has given me a chance to take a peek into where and how Dennis grew up, as well as learn more about his (impressively eco-minded) family. The house is full of treats and trinkets with the cellar being an absolute trip down memory lane. Within the first few weeks I had clocked these incredible armchairs that were no longer being enjoyed. With the decision to find a new apartment, we planned to have a bit more space than our previous flat so ….show me the sander I said!
4 great reasons why to up-cycle:
Keeping memories alive –

 

Often items have been inherited, so you know who they belonged to, but even if its an anonymous flea market buy, I find the charm and mystery of older items so alluring. It's a really wonderful feeling to know that I have breathed life back into furniture that the family has had and cherished for so many years.

 

Unique & yours to be proud of – Your up-cycled furniture, whether done with your own grubby hands, or commissioned out to an expert, has your personal stamp on it – Therefore the piece is a unique as you – L.O.V.E!
Resources saved – It is not only the physical materials (wood / metal /glass etc.) from which items are made, but also all the energy, water and transportation that goes into making a new product available.

 

Quality – In many cases up-cycled items are much older and therefore have bundles more character, charm and quality than what is typically available to buy these days, particularly wooden furniture.

 
In my opinion, our focus should be on procuring only what we need and aiming for longevity of use. By no means am I anti Ikea, no, no! In my stunted cultural knowledge of the country I could argue it is the best Swedish export since ABBA. (Last weekend we happily rebuilt and overload our two KALLAX box shelves, after keeping them in storage for a year.) 
Here is an article from The Ecologist about a family run UK upholstery business. It not only highlights the benefits of reusing furniture but also talks about the sourcing of 'fast furniture' and hits the nail on the head in terms of consumerism:
"The emphasis should be on reducing consumption
and if possible reusing when possible."
Sarah Page, Plumbs (The Ecologist, article online, accessed 14th Dec 2019)
Here is the link to the beginners step-by-step guide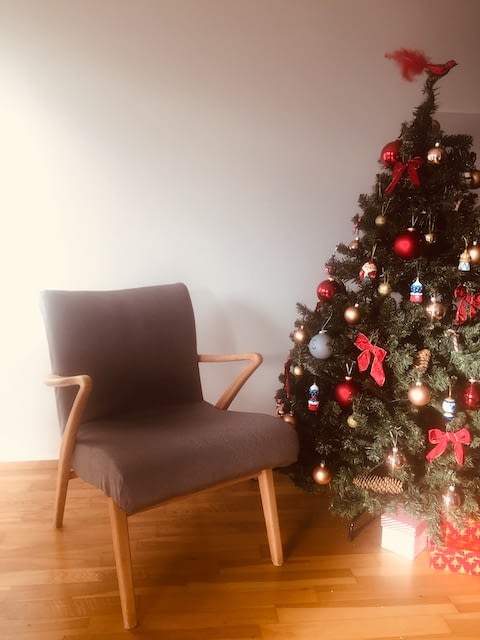 I proudly present my 1st up-cycle success. Before and after as well as our beloved chair in it's new habitat.
For those of you looking to learn more and perhaps tackle your own project.
Good Luck, I hope the guide helps. Be sure to share your plans / successes with me in the comments below!
Thanks for reading
Your Better Me Greener
Charlotte