Ride sharing with Bla Bla Car
Sceptical about sharing a car with a stranger? Why ever! 
I'm nothing if not a social being! I have always been outgoing and truly enjoy chance-encounters or a bit of small talk with strangers, so was particularly intrigued by this challenge in which we offered a free seat in our little car on our journey from Germany to England over Christmas. Why would I do this you ask – well I am an avid fan of the sharing economy, a community-based concept on lending and borrowing, rather than owning. This Forbes article explains the different facets of it perfectly.
Carpooling is a brilliant example of the sharing economy. If it is a completely foreign concept to you, you are not alone. Most of my friends and family had never done it and reacted with a raised eyebrow of scepticism to say the least. The main concern was about safety and the thought of sharing a potentially uncomfortable long journey with someone unknown. I have only done it once before myself as a passenger, so whilst excited, I was also a little reserved with how it might play out, but I surely wasn't going to let it stop me…. and thank goodness it didn't as it was an awesome experience!
Having decided to drive, rather than fly home this year following lessons learned from challenge 2, we were keen to go a step further and try to reduce our emissions per head for the journey. Having had a positive experience and nice chats myself as a passenger on a carpool some years ago, I also thought it would be fun to see who would join us.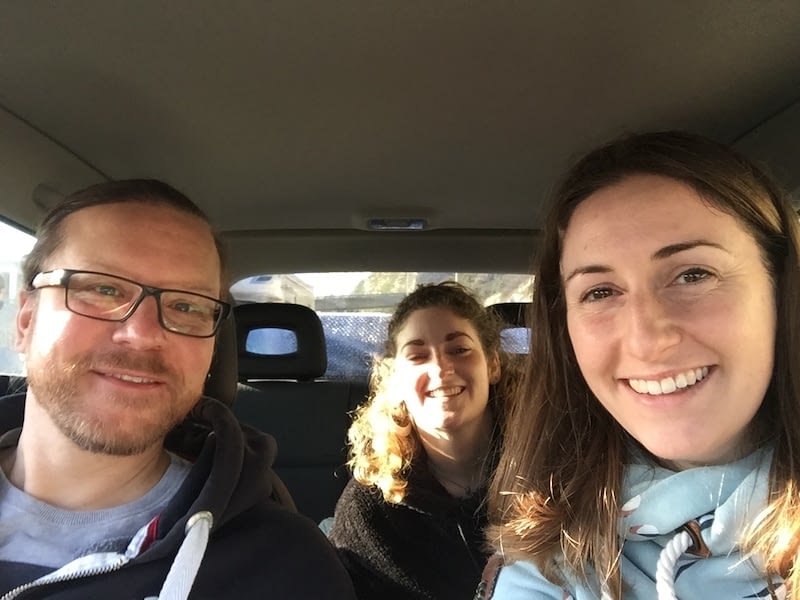 Much to my delight, it was a great success and I will definitely do it again! The lovely Florence, who was doing very commendable work with the Refugee Womens Centre in France joined us as she was traveling back home to see her family for Christmas too. Not only was it great to serve the main purpose of more sustainable travel, it was really interesting to have a chat with Florence and an added bonus to have a bit of a contribution towards the cost of the journey. Things worked out so well for the 3 of us that we ended up sharing the journey back too 😄
Don't be shy - give it a try!
How does carpooling / ride-sharing work? 
Today there are numerous online platforms where you can share a few details about yourself, vehicle and planned journey, to then offer 1 or more seats to potential passengers in the car-sharing community. Passengers are mostly asked to give a contribution towards the journey costs. 
Which carpooling platforms are out there?
I made my journey available using Bla Bla Car, and within a few days had a few interested passengers, (in total I had 77 views of my trip over 2 weeks). There are plenty of other platforms; Taxistop, drive2day, hitchhikers and  Singu Carpooling (for businesses) to name but a few. 
Carpooling for drivers
As the driver, I needed to sign up to the Bla Bla Car platform and enter my journey. The site then maps your route and offers a suggested price for passengers. I was able to plot a few stop-off points to create legs of the journey. Florence joined for the latter half of the trip and therefore only chipped in for the corresponding part of the trip. The money side of things is handled via the website and transferred directly from account to account. All we needed to do is get in contact to set up an exact time and place for the pick up. Once the trip takes place, you can rate the passenger.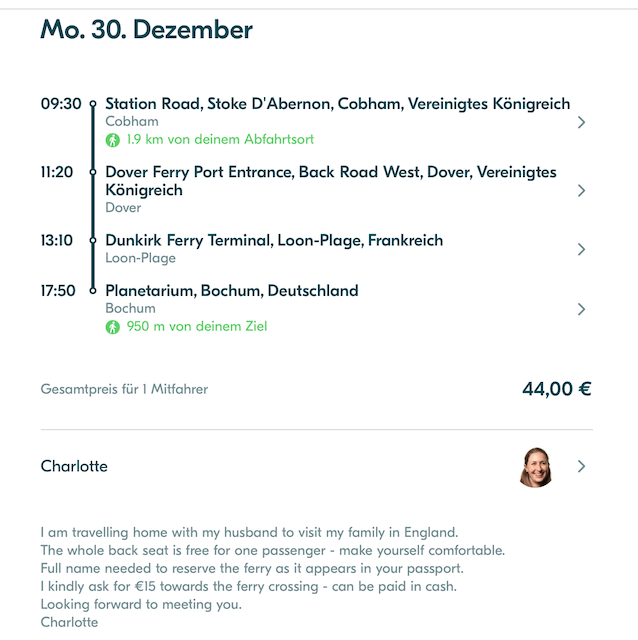 Carpooling for passengers
As a passenger, the process is much the same, you put in your desired start and destination point and the website gives a variety of options. A bit of flexibility on your part is often necessary, as you may need to travel a bit to or from the pick-up/drop-off point. Once you have decided to join a driver, you often need to get in contact and define the pick-up time and place. After the journey is done, you can also rate the driver. 
How safe is it?
I would argue that it is a lot safer than most people who have never done it before imagine. Firstly, all platforms require you to set up a profile where it is possible to add a picture, also, drivers and passengers can give and get reviews. These two things help significantly if you are a little cautious. Of course, when doing it for the first time, there will be no recommendation yet so a leap of faith is necessary, but as a rule I would only accept rides with both a good recommendation and picture (so if when meeting there is a mis-match, you can simple say no).
A few tips …
Use your common-sense – when sending a few messages to arrange the pick-up, listen to your gut-feeling, if something seems odd you can always make other arrangements.

Inform a friend

or family member about your trip before travelling.
Trust your instinct – I had a request to take someones luggage on the trip home – thanks but no thanks. Perhaps it was harmless, but it was not an option for me.
Crossing borders? As a driver ask to check their travel documents before a passenger gets in the car – Bla Bla Car gives tips and recommendations on journeys that cross borders.

   

Step out of your comfort zone and give it a go – Chance are you will be very pleasantly surprised
Thanks for reading
Your Better Me Greener
Charlotte