Food Leftovers - Christmas and beyond
The goal of challenge #13:
Confront Christmas food waste

 

Introduce the 'Rest-ipe'
Supporting Sustainable Development Goal 2
 70% of food waste comes from our households (not supermarkets)
The above statistic comes from a Wrap.org report on food waste in the UK. Challenge 13 took place in the last week of December whilst I was back there over Christmas. As with millions of families across Europe and the world who celebrate this holiday, I was really looking forward to spending time with my loved ones, as well as the fabulous feast that we were set to have, however, this year I found myself giving a lot more critical thought to our use and abuse of food. Here are a few eye opening statistics highlighting why: 
Its a pretty grim picture, hey!
I also know that myself and my family are certainly some of the culprits and so we have work to do.
The good news is so much of our behaviour around food is based on learned habits – and these we can change! In fact, I would suggest that for most of us, food is the area in which we can change our ways most to positively reduce our footprint. 
So how can we reduce our food waste? Its simple!
Step 1 – Meal planning
Plan meals before going shopping and refrain from going 'off-list'
Do a sweep of the fridge and cupboards once or twice a week to find items needing to be used, e.g. fruit & veg or items close to their use-by date and build your next meals around them. (I have set a reminder on my phone to do this regularly)
Freezer friend – Rather than using the freezer as a storage abyss, use it actively and make a point of freezing leftovers and eating them at regular intervals. Add this to your list of places to check from the above point.
Get in the habit of only buying one unit of perishable items and only re-buy when the first one has been used up.

 

Shopping staples – handle with caution. Many of us have items we often/always buy but never finish. Which are yours? Make a note on your shopping list to not buy them anymore, or only occasionally as a treat. For me it would be a beetroot and sliced ham ban, for my mum; dips!
Finally, specifically for Christmas, go easy on the treats. We use the holidays as a way to spoil the ones we love by stocking up on all their favourites. Good intentions can result in over-buying and increased waste. Next holiday make a point of talking to your family/guest and make a list of only a couple of items you would like to have – leave the rest. Talking and planning together also helps more of us to confront and collectively improve our food waste habits.
Step 2 – Use leftovers – Introducing the 'Rest-ipe'
For reasons unbeknown to me, loads of people are anti leftovers. In my opinion there is nothing better!

– Full meal leftovers – you get all the deliciousness of a good dinner with minimal cooking effort, just reheat and tuck in! Or tupperware up and take to work the next day for a free and easy lunch.
Bits and pieces of leftovers – often throwing odd bits together can result in creative meals that taste amazing. My motto is 'throw it into a pan – with a fried egg on top' – some of the best comfort food dinners have come from this 🤣
'Rest-ipe' – A scrum-diddily-dumptious meal made out of left over food, or food soon to be perished goods. Key characteristics of such dishes and Rest-ipe chefs are fantastic food (and a love thereof) creativity, sustainable thinking and appreciation for the effort and energy that goes into producing food. You heard it here first 😉
In Germany they call leftovers 'Rest' ('Rest essen' = eating the rest). At home, we love eating the 'rest' and I have coined the term 'Rest-ipes'. This Christmas, we managed not 1 but 5 meals from our turkey, including; cold cuts, stir-fry, curry and soup! Mission 'use up the turkey' accomplished! Over the coming months, I am going to make a point of sharing more on my 'Rest-ipes' and would love to hear of your delights too – #Rest-ipe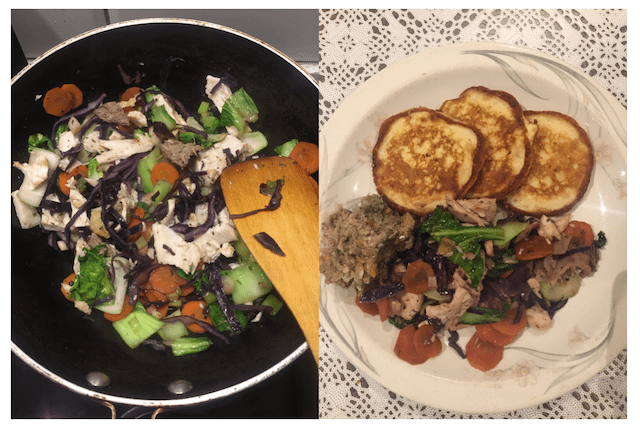 Still not yet come round to the idea of leftovers? Have a read of this Huffington Post article on portion control – its written from a nutritional perspective but has many element relevant to sustainability. 
If you have difficulty managing the amount of food-waste and want help changing your habits, I would love to speak to you and potentially run a small group activity on the subject. Please write to me in the comments below stating 'Help with food-waste!' and your message (These will not be published comments). 
Thanks for reading
Your Better Me Greener
Charlotte