1 roast chicken - 10 portions & a wish!
The goal of challenge #20:
Minimise the food waste from a roast chicken 

Share my 'Rest-ipies' from the week

   

Supporting

Sustainable Development Goal 2

; 'End hunger, achieve food security and improved nutrition and promote sustainable agriculture'
The solution to food waste = 'Rest-ipes'
I love food & hate food waste – which put me in good stead for challenge 21;
How to make the very most of a whole roast chicken, by using all leftovers
Following the previous week's challenge of educating myself on plant based diets, I feel like I'm on a roll with food. Over the last months, I have reduced my meat consumption which I am pleased with, but I have also written about me being an unlikely candidate for becoming vegetarian. My approach to these challenges is not to radically overhaul my life to adhere to ideologies, but to find ways of making manageable improvements on a personal level – any step towards sustainable living, is a step in the right direction – the main thing is we start walking!
'Rest-ipies' were mentioned for the first time in my post about Christmas leftovers. With this, I am referring to making use of the leftovers from one meal (i.e. the rest), in combination with food items about to pass their use-by dates, to make a delicious 2nd meal that uses everything up – simples!
One of my main points surrounding food is that we can make massive improvements with our habits without having to stop eating all the things we love. For example by making sure we use all of the food we buy, avoiding unnecessary packaging, buying local food etc…
It's Chicken Time!
On last week's shopping list was a WHOLE chicken – not just legs or wings, or skinless breasts (I mean – come on)!
In this post, I am simply going to share with you the meals that resulted from that one chicken. If you don't like the idea of eating the same meal two days in a row – start freezing meals! Freeze a portion and then enjoy a 0-effort delicious meal a week or so later – What is not to like about that? One thing is for sure, the days of throwing away leftovers over!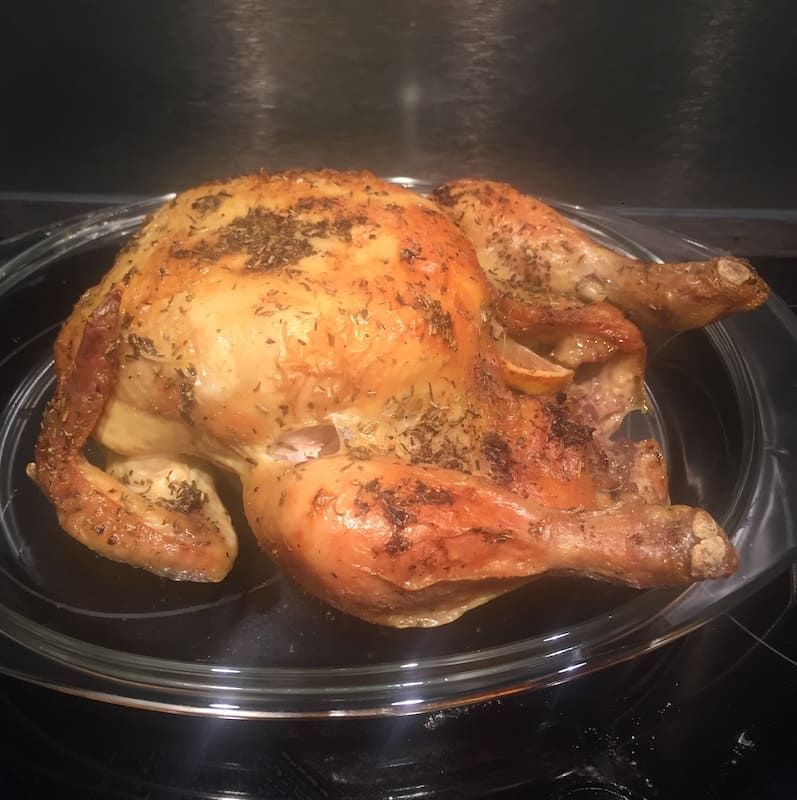 Meal #1 - The Traditional Roast  - 2 portions
Having grown up with incredibly awesome traditional Sunday roast dinners cooked by my mum – this meal will always give me such a sense of contentment – I love them. Sundays version was a bit of a twist as I experimented by stuffing it with some lemon, onion, garlic and … ginger! Turns out it is a great combination.
This bad boy was 1.4kg and you can estimate that bones will be about 30% of the weight – that means we are talking about 980g of edible yum.
Meal #2 - 2nd day Roast Re-cycle  - 2 portions
Generally any roast, but particularly beef, chicken or pork – will taste great as it is the next day. Our staple Monday family meal was always cold cuts of meat, with a bit of salad and a good old jacket potato. It is really shabby weather at the moment, so we opted for a comforting hot meal as we had some roast potatoes and veggies left too. Everything was re-heated and gobbled down with delight. Also note the scrubbed but not completely peeled carrots (honey glazed to take any bitterness from the skin – they were gooooood 😉)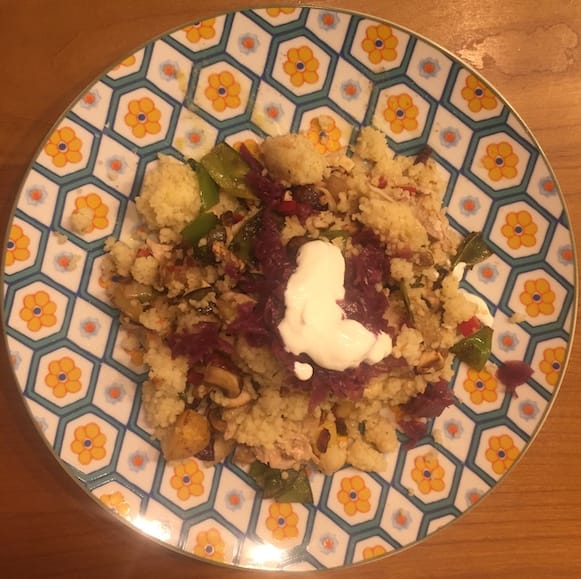 Meal #3 - Cous-cous, veggies and chicken stir-fry - 2 portions
It's Tuesday = day 3. Regardless of what you may believe – I promise I have never had issues with meat going bad in this time if it has been kept in the fridge. After the two dinners above, there was still plenty of meat on the bone. For this meal, I chose a few veggies that looked like they were on there way out – red pepper, onion and mangetout – threw them in a pan, added the chicken and some cooked cous-cous. Topped with some red cabbage and crème-fraîche. At this stage it is necessary to pick off the meat from the bones with your fingers. If you have issues doing this, my advice is to go and have a frank chat with yourself in the mirror! If you can eat meat, then you are capable of handling it to reduce waste too 💪.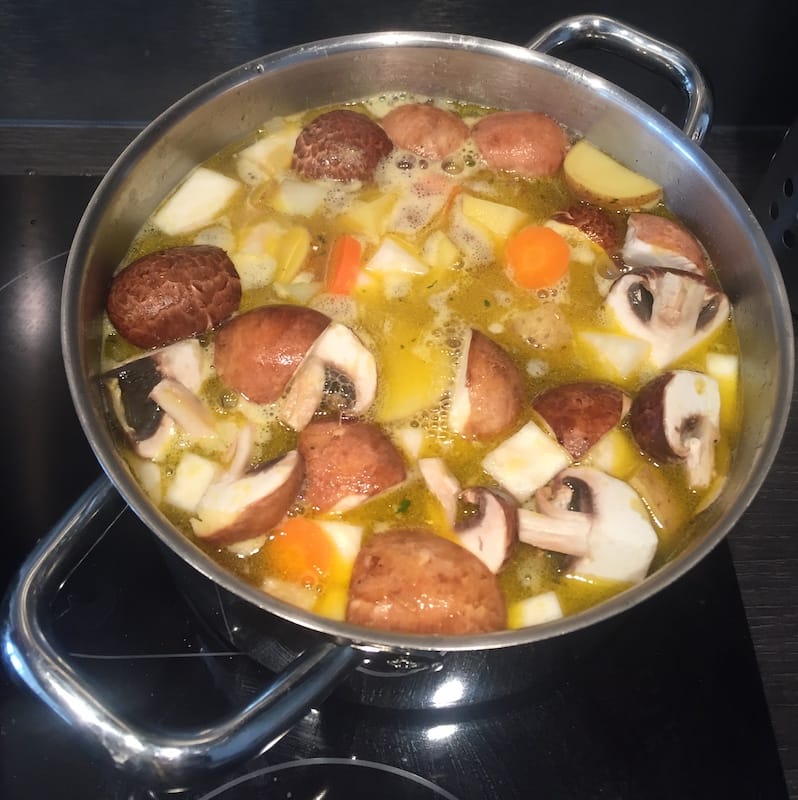 Meal #4 - Chicken and vegetable soup - 4 portions
For the final dish(es) the bones and carcass are boiled in water (on day 3) to make a really nice chicken stock for soup. Simmer for as long or little as you like – generally 30-45 mins is enough for most of the meat to fall off the bone. Let it cool and then pick any additional meat from the bones and carcass (if you have kids, this might be a fun task to delegate to help teach them about food waste reduction 🤗 – I'm very grateful to my mum, Rosie, for teaching me 😘).
We were left with about 120g of meat and the delicious stock to which we added carrots, potatoes and mushrooms. Hey presto you have an amazing soup from which we had 4 portions. 2 we ate on day 4 (yes still fine) and 2 portions were frozen. I make a point of saying it was fine to still eat the meat after a few days as I believe too many of us are far too precious about this and therefore throw perfectly good food away. If you are nervous about leaving meat for a few days, make sure you just freeze it directly on the day of cooking – you will be fine!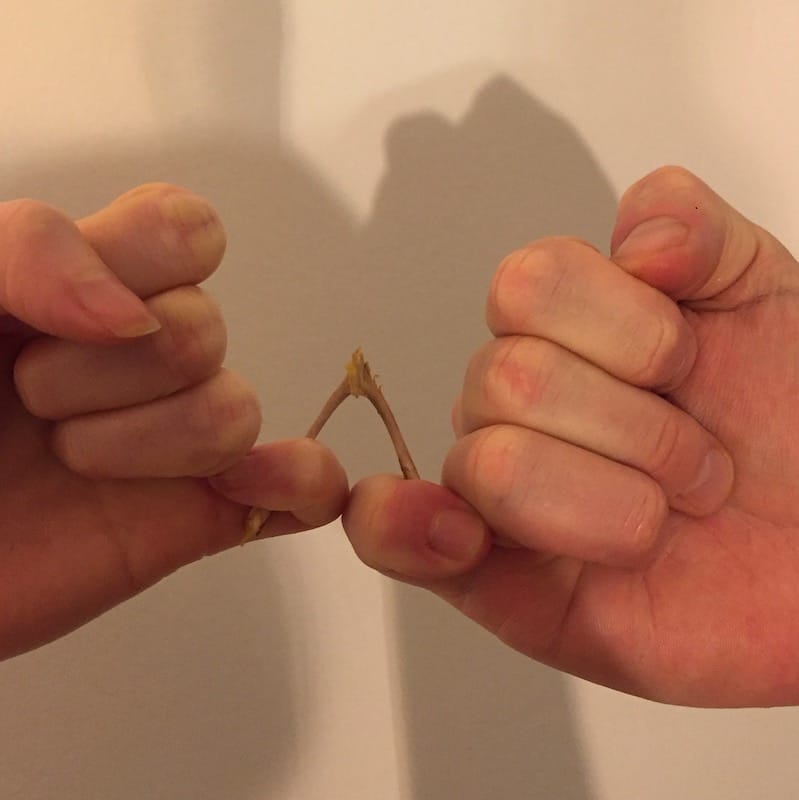 Saving the best until last - time for a wish!
Are you familiar with the 'wishbone' from chicken?
This is a funny V-shaped bone found at the tip of the breast meat.
Put this to the side after discarding the bones from the soup, leave to dry over night and then do a pinky finger pull with a second person. On the count of 3 you each make a wish – the wish of the person holding the largest piece will come true!
WHY??? you ask – well why ever not? After all it is these little quirks of life that add a bit of random fun 💫
These recipe suggestions are just a few of many – I would love, love, LOVE to hear about your 'Rest-ipe' creations so let me know in the comments below or send pictures with #Restipe via Twitter. 
Thanks for reading
Your Better Me Greener
Charlotte