Eco Replacement for Disposable Plastic Razors
The goal of challenge #29:
*** Pre-read note – whilst I'm addressing razors for leg shaving, the safety razor in question is as good for face-shaving gentlemen as well as lovely-legged ladies ***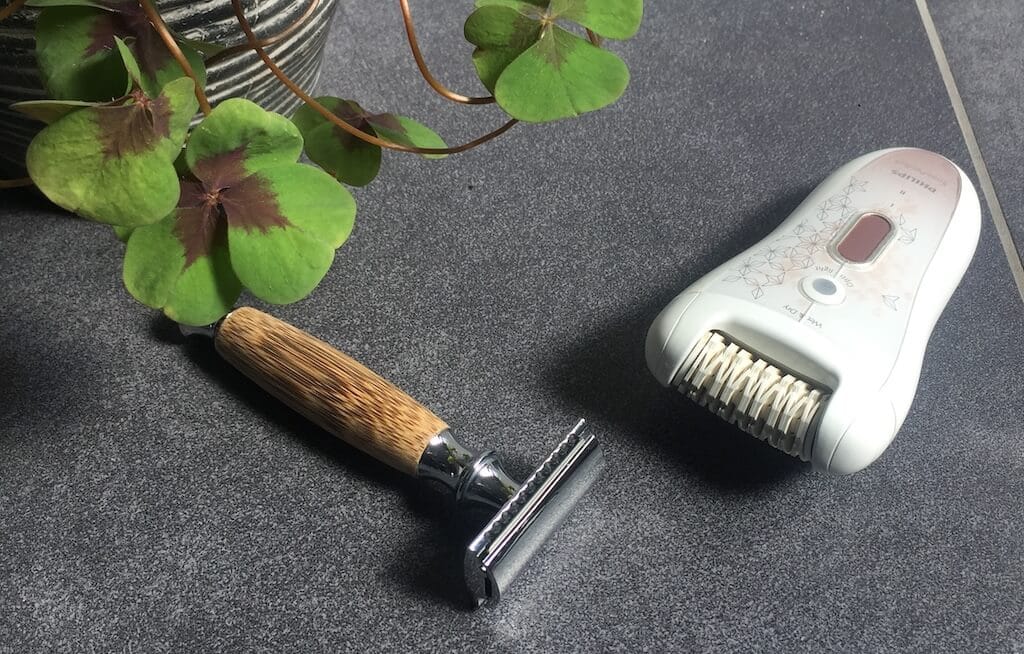 Short & Simple Tips to Smoothness
Following my creative success in challenge #27 where I up-cycled jeans in to a new denim skirt, I needed to get my pins Spring / Summer ready. This post, as you will have guessed, is about finding an eco-friendlier leg shaving / hair-removal routine – the main goal being to find a sustainable alternative to disposable plastic razors, of which an estimated 2 billion are thrown away in America alone each year!
As there really are more gripping topics to busy ourselves with, I am going to keep this post short and just talk about two shaving tools that will up your sustainable personal care game.
Hail the epilator!
Theres a sentence I never imagined I would utter, let alone write!
We are all born with certain individual characteristics, more of some things, less of others. Sadly for me I was blessed with fair, yet strong leg hair 🤦‍♀️. Overshare? Perhaps, but it does mean I have tried a lot of hair removal options. Early on I discovered the epilator which has remained a permanent part of my bathroom inventory.
If you are looking for a long lasting hair removal technique that really works at removing all hair, even the thicker ones (more so than waxing), epilating is the way to go. It is also great at reducing how often you need to do the joy that is hair-removal. As for the device itself, I have had the same one since uni, so that is 12+ years. So its both cost effective and great at reducing materials and production resources.
Over the years I have tailored my routine down to an art 😄. I have found the occasional shave in-between helps to get level re-growth so that the next epilate gives the best, even longer-lasting smoothness. This means I have always had plastic disposable razors floating about and that is what I wanted to change.
Introducing the Sustainable Safety Razor
There are loads of permanent razors alternatives out there! If you type 'Safety Razor' into Amazon, (Be sure to use Amazon Smile – check out Tip 1 from Challenge #9 to learn why) you will come across lots of options.
I decided to go for a bamboo / metal option. When it arrived, I was super cautious for the first use as I heard they are incredibly sharp and need a little more skill to use. I did read up for some safety razor user tips, but actually I found it no different to an other razor.   
All in all, I can highly recommend swapping to a sustainable razor, the results were great and at a cost of €24 for the handle and 20 razors, I found it to be a really reasonable price.
I am happy with my updated hair removal routine, but will leave you with a final alternative of reducing waste and energy usage; Januhairy! – I do love the weird and wonderful things my Better Me Green research has lead me to discover over the last months 🤣
Thanks for reading
Your Better Me Greener
Charlotte