How much do we know about the meat we eat?
The goal of challenge #3:
To make a better informed, conscious purchase of meat with respect to;

animal welfare
distance travelled
fair pricing for the producers

Choosing quality and clarity over quantity and convenience

Let me paint a scene...
…It's Sunday afternoon, grey, wet and cold, but there is a great sense of satisfaction as we are already back from weekend jobs or (the even nicer alternative) a dog walk, and are now curled up on the sofa. My sister, most definitely snoozing and me semi-watching one of the 90's TV crackers, I'm thinking The Vicar of Dibley (Legends!) or One Man & his Dog ("Come-by Shep"). What is making this moment perfect, is the waft of the roast dinner lingering through the doorway.
Growing up in England, with my mum from a farming family in Ireland and my Dad being the son of publicans, the traditional Sunday Roast dinner featured a lot. I absolutely loooooved them, along with all the priceless memories that came with each sociable and excitable meal, as we were generally never without a few guests or 'strays' as my Dad would call them. 
Needless to say, I was brought up on a fairly meaty diet, and still enjoy all types to this day. However, the sourcing, variety and quality of available meat 20+ years ago, was very different to what we buy now. Today, quite rightly in my opinion, meat has become a contentious issue, in light of globalisation, increased awareness of animal welfare concerns, often linked to cheap mass-produced meat, as well as the impact meat production and transport has on the planet.
Whilst I have great respect for people who opt for a vegetarian diet for reasons of sustainability, I recognise that I am an unlikely candidate to do this myself. Over the last few years, I have successfully made an effort to eat more veggie meals, but also still believe that meat constitutes an important part of a balanced diet. If our fellow cave-men and women were eating it, we can't feel too guilty doing it ourselves. We can, however, pay more attention to what has happened to the animal and meat we are eating and where it has come from. 

 This week, I therefore made it my mission to alter my buying habits and go to the local farm for the first time. A short 2km jaunt up the road and I was welcomed by a very happy trio of Labradors (sadly no photo taken). We had a really nice chat with the lady there who runs the family farm. Not only was she brilliant at explaining the varieties of cuts, she also gave lots of interesting information about the way animals are reared. 
Theirs was a 'Neuland-Fleisch' certified farm (link in German), which is primarily concerned with  animal welfare, rather than being organic/bio. Here are just some of the requirements; straw bedding, year-round outdoor access, no restraining of animals, feed is nationally sourced, doesn't contain soya, antibiotics or growth promoters. The prices these farmers charge are also not dictated by retailers or industry corporations. As you can see from the pictures, we also got to 'meet our meat' directly on the farm.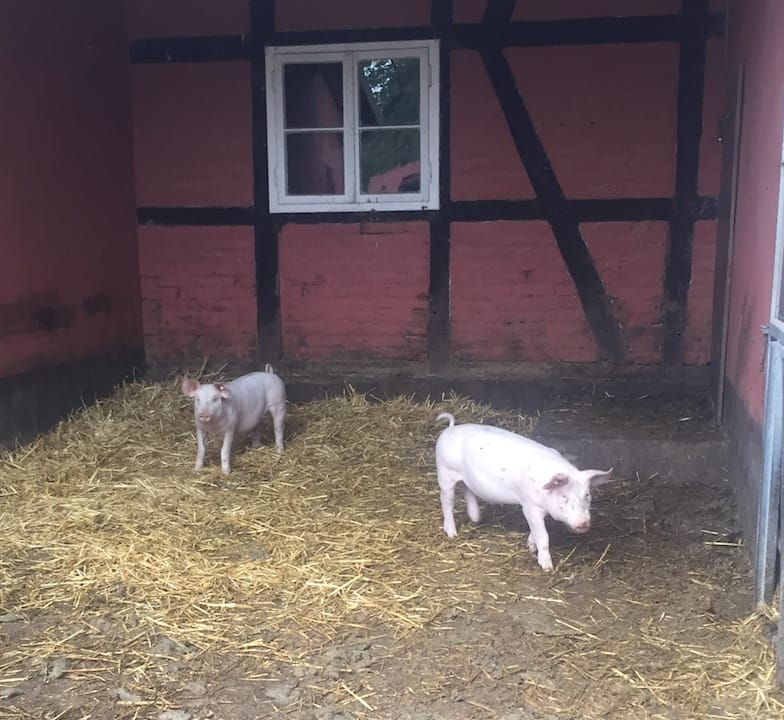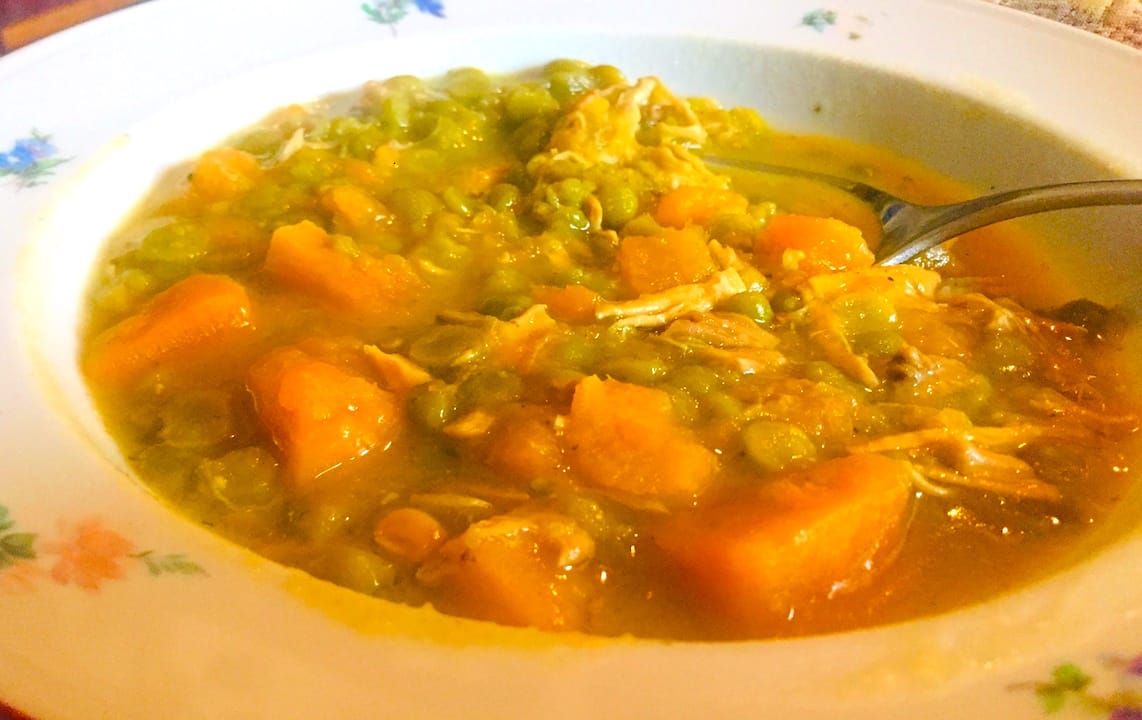 'Rest-ipe' - Ham & Pea soup
Oh but the expense, I hear you say … 
I paid just under €22 for a 1.7kg of premium pork, which not only fed 5 adults with generous portions, we also had left overs the next day as part of a cold platter and the last bits went into a delicious pea and ham soup, from which I have 4 portions. So thats 10 portions of 170 grams for €2.20 each. The whole experience of going to the farm, seeing the animals, having a direct exchange with the farmer and, most importantly, knowing how the animal has been treated, is absolutely worth this price. 
I generally consider eating meat to be a luxury, but by taking the time to buy in this manner, and understand more about where the pork is from, I definitely had even more appreciation for the food in front of me. I most certainly will be buying from there again.
Here are a few other ideas of how to purchase meat in a more considerate way:
Look locally; farms, butchers, or ask your local supermarket about where their meat is from.

 

Pay more attention to labelling. In Germany, there is a labelling system in place called 'Haltungsform' which informs you of how animals have been kept. Watch their short video. If you are not located in Germany, have a closer look labels and do a little research on the internet. I am sure alternative options are available.

 

There are also great concepts, whereby animals are only slaughtered, once all meat has been pre-reserved, therefore no unnecessary waste. This article from The Guardian, whilst not the latest, gives some shocking figures concerning meat waste. Try 'buyacow.uk, 'kaufnekuh.de', 'kuhteilen.ch'
What ever you are having for dinner this evening, enjoy!
Thanks for reading
Your Better Me Greener 
Charlotte