Wise Words & Eye-opening Opinions
The main goal of Better Me Green is to learn, learn, and learn some more, about ways to improve my level of sustainable living. Of course this has meant lots of reading, but by far the most enjoyable and motivating part has been all of the conversations throughout the last 7+ months. Over the last two weeks I have taken to the streets and parks where I live, to chat to locals about their views on certain topics of sustainable development and eco-conscience living.
If you take away one thing from this post let it be this – Making an extra little effort to talk about climate change improvements is already a big positive step. Even the shortest conversation serves to raise awareness and gradually alter our combined behaviour. Of course this doesn't need to be with complete strangers as I did, you can start with the people closest to you.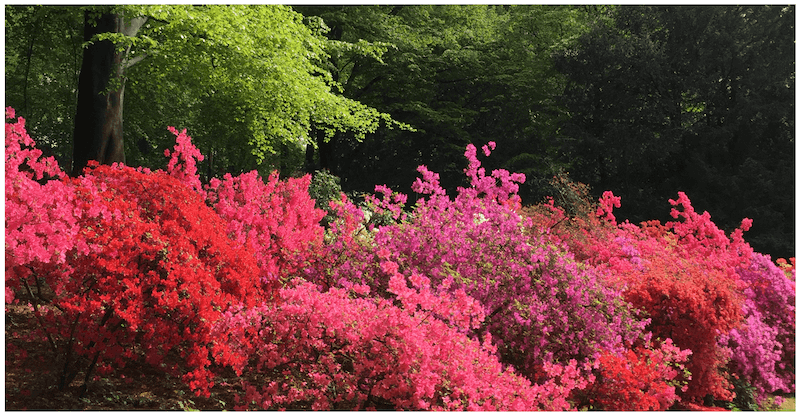 Dankeschön Bochum
Firstly, a BIG thank you to all the lovely, open & friendly people of Bochum that I spoke to 🤗! Each and every conversation gave me really interesting insights and ideas. For me, two things are all the more clear:
1 – EVERYONE has an opinion on climate change. This in itself is great as it means the topic is in peoples minds. Even those who showed a more skeptical mindset at the beginning of our conversations mostly admitted they see the importance of sustainable development for the future.
2 – There is a common opinion that the more we talk openly about sustainable development, the more we move in the right direction.
1 - Role models are all around - starting with family & friends
The conversations I had looked at which people act as role models in terms of living in an environmentally friendly manner. I found it wonderful to hear so many people identify direct family members and friends. It seems the people closest to us, who we know and trust, can have some of the biggest impact in encouraging us to improve our ways.
Quite a few people also mentioned their grandparents, this is certainly something I can relate to with Lisa – who just turned 96 this week 🥳. Talking to, and learning from our nearest and dearest is a perfect place to start, its something that has helped me learn so much already and I certainly plan to keep it up. I have found since starting BMG my friends and family have been sending more and more tips and links on the subject which I love! (🎩-off to Ute who sends me regular tips and news articles 😉)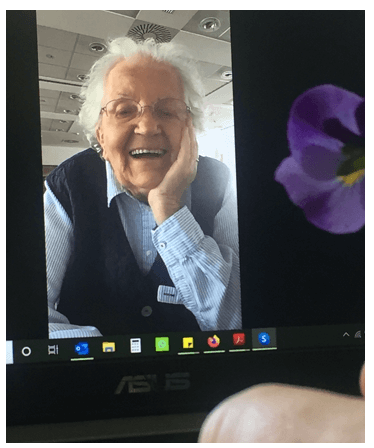 2 - Get active within groups 
Reassuringly most people identified the need for each of us as individuals to take more responsibility in our decisions surrounding sustainable living, however an overwhelming number highlighted the important role politics plays in sustainable development. So many people said what makes  all the difference is when we individuals get active within political, environmental or community groups. 
 I will admit that my engagement in politics up until now has been limited to only key votes in the UK having not lived there for close to 15 years. The conversations I had motivated me to sign up to receive news on activities from both the green political party, as well as NABU – Germany's largest environmental association.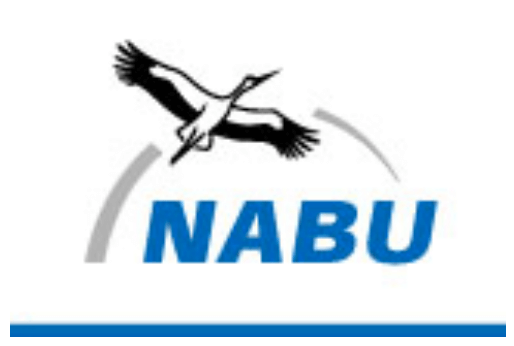 3 - Learning to appreciating our personal consumption of 'endless' resources
One of my reoccurring thoughts since starting BMG is how so many resources in developed countries are either absolutely taken for granted, or that we have lost touch of where they come from and the energy and infrastructure it takes for them to be made readily available. This is also what one guy highlighted with the focus being on water. Although here in Germany, and across most of Europe, we don't need to directly worry about having no water, there is no doubt that our weather patterns are changing dramatically. Additionally, although the topic of climate refugees and the surrounding statistics are highly debated, one thing is for sure, far too many people are already being forced to leave their homelands due to droughts as well as flooding.
My point here is not about drastically changing specifically our water usage, but more about using it as one resource to help sensitise ourselves to the gap between what we actually need in comparison to what we take without thought, just because it is readily available in our society. This relates to SDG 12 – Responsible consumption & production. The point made by my buddy in the park was that if we had to carry and heat the water we need to wash, we would soon realise that we can get by with an awful lot less than the amount that pours, steaming hot out of our showers on a day to day basis.
How many litres do you use in the shower? 
Do you know how many litres of water you use in an average shower? I didn't and it was something I have been meaning to examine for a while, so after my chat in the park I decided to do a very simple home check, that you can do too. Get a 1l measuring jug and run your shower briefly to get to the normal water flow and temperature you use. Then time how many seconds it takes to fill the 1l jug. Calculate your average shower time into seconds and divide it by the time needed to fill one litre.
My average 5 minute shower equated to 43 litres of water! That is well over a third of the 110l used on average per person in Germany (check your country's average here).

For your next (non-hair) wash, rather than shower, fill your sink (probably about max. 5 litres) and see how you get on. Although I am sure many reading this will deem it to be silly, my feeling is that it would serve us well to pay more attention to how much we really need rather than taking what is placed at our finger tips without consideration. Often my travels have taught me how to use less. Here is a random yet fitting picture … A brief experience of the somewhat different morning routine in Mongolia – no running water!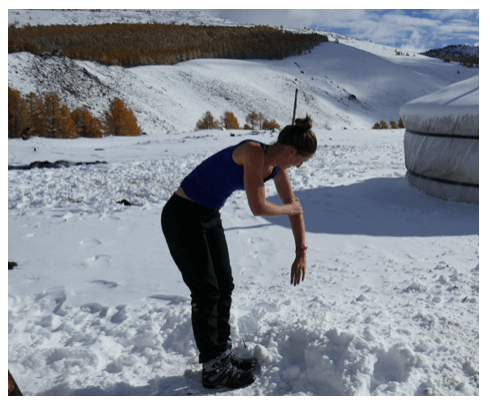 Sometimes stepping out of our daily habits can serve as a humbling reminder of how lucky we are and what we really need 😉.
Thanks for reading
Your Better Me Greener
Charlotte