Granny knows an eco trick or two
The goal of challenge #6:
Taking a look back to re-learn the eco-friendlier ways of earlier generations
Swap convenience for considerate actions –

 

Identify a few typical convenience habits we have become so used to and replace with retro solutions.
Introducing Lisa…
Let me introduce you to a wonderful, and for me, absolutely inspiring person. Lisa, born 1924 in Blomberg Germany, the only daughter, along side two brothers, to parents who owned a sawmill and small farm. Her's, on the face of it, is a rather undramatic story. On finishing school she was keen to study, but with the men of the family set to take over the business and lots of work to be shared out on the farm and sawmill, it was not the done thing. Following the difficult WW2 era, she went on to marry a man she was very smitten with, they had two children, built a house, and lived a typical down-to-earth, yet comfortable life of the heavily industrial, coal-mining region of the Ruhrgebiet. 
Lisa is my husband's grandma and someone I am so grateful to been able to get to know over the years. Lisa, has had her fair share of ups and downs, several of them particularly challenging. But some of the things that I admire most, are her open-mindedness, balanced and never over-bearing opinions, and the fact she shows genuine care for her surroundings and wider society. Dennis tells me that for a long time, Lisa quietly went along with rather conservative views of those around her, but at the age of 60 decided to study. Within the general studies course she completed in the mid 80's, philosophy was the subject that she particularly enjoyed. Following this she became more liberal in her views. 
Lisa is the perfect example of how we can all change our ways regardless of background or age. She became a front runner with sustainable energy, not only one of the first to get solar panels installed, but she was also an initiating member of the group who enabled the first wind turbine to be mounted in Castrop-Rauxel. It still stands proudly today, along side 5 others. She was a loyal supporter of the first organic shop (Bio-laden) in the town. We were there recently talking to the owner who proceeded to tell us of Lisa's local engagements and exclaimed; "'Fridays for future'!, its great, but Frau Jürgens was already active back in the 80s, as a founding member of the 'klima-bundnis' group.". He gave us a bar of fair-trade chocolate as a gift for Lisa along with his warm regards : )
Tales aside
I could tell plenty more tales, but I will come to the point of the ensuing challenge. At the highly respectable age of 94, Lisa decided to move into a care home. Following our 9 month travels and relocation to Germany, Lisa and our family here, generously let us stay in her house until we find our feet. The family home is a cosy place, with a lovely garden, so in the blink of an eye, 5 months have passed of us living here! Over this time, what has hit me is that here, you do not find 'stuff' but 'possessions'. The items, of which there are limited amounts, all have real purpose, use, and meaning. Being 33, I have grown up as arguably the worst generation in terms of the 'things and stuff era'. 
For the next challenge, I am going to look into some of the ways Lisa has approach life to see what good habits I can learn, implement and take with me, as we are soon to move out.
Challenge #6 discoveries
It has been both inspiring and humbling to learn more about Lisa's approach to life, all the more so given she is a person I hold very dear to my heart. I would struggle to give a short report on all the lessons learned, so let me highlight just 5 points: 
Back to the roots – Over more than 6 decades, the compact, charming garden belonging to Lisa's home has been a haven for nature, as well as the fruitful foundation of so many plants. From the stories I have been told, masses of home-grown fruits and veggies have flourished and nourished here. There has also always been a compost heap, which I have had fun bringing back to life. I would estimate that our throw-away rubbish has been reduced by about 75% since composting. Although our new apartment has no garden, you can be sure I will be getting creative on the balcony.
Take away #1 – Get planting and composting!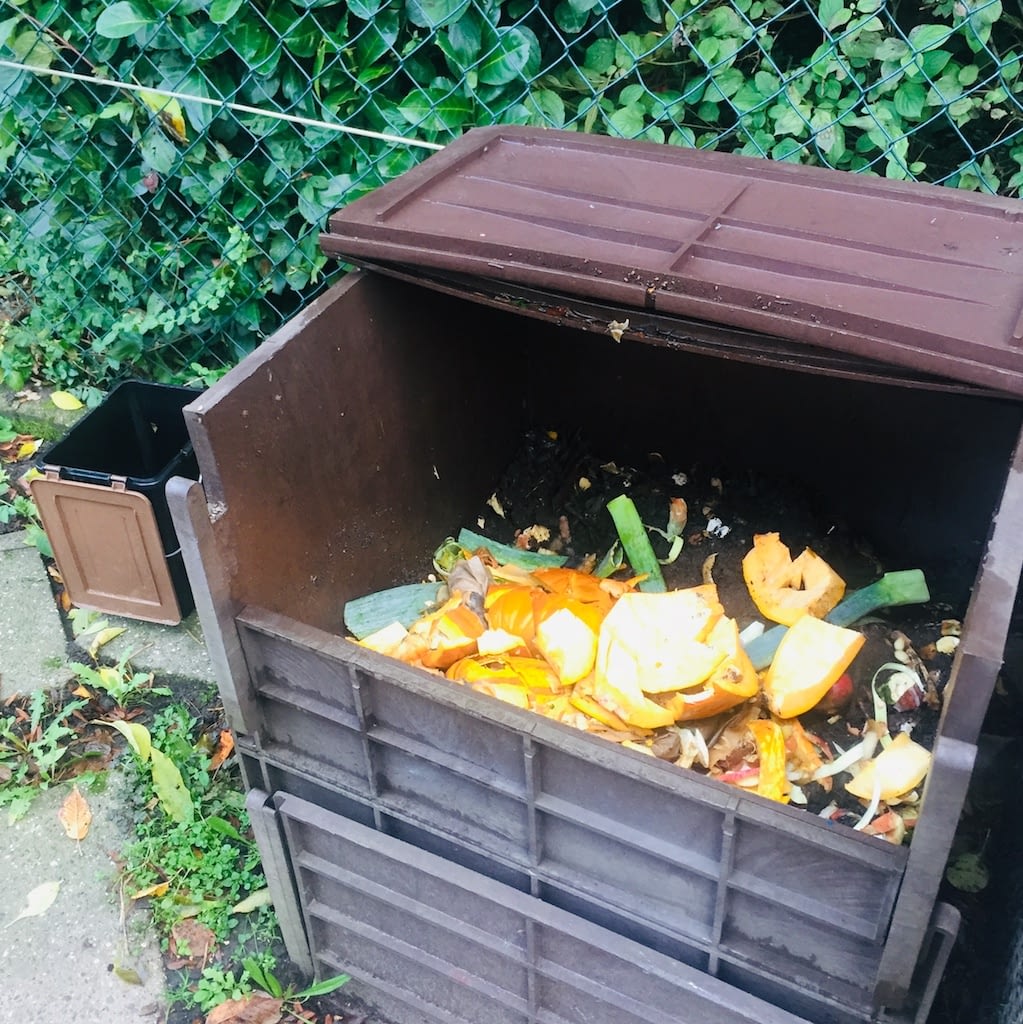 Quality not quantity
What strikes you in her home, is that the items that have come to be here, of which there is a limited amount in comparison to most I know, all have purpose, meaning and quality. From whether books, utensils or furniture, consideration has been given to creating a cosy and practical home with things that last.
Take away #2 – critically consider these three things before making a purchase.

 

Reuse & Recycle – Rather than directly recycling, Lisa has been brilliant at reusing so many things! Old sheets and towels are made into cleaning cloths, large yogurt pots are used time and time again for freezing or storing, and clothes were stitched rather than ditched. Take away #3 – think 'How' – How could I put an item to another good use. If its time to go, then how can I best recycle it. Think twice or thrice! I'm also inspired to tackle my first up-cycle project too (watch this space)
Get involved and never stop learning – The world is constantly evolving, so can we. Lisa told me that after the course she took in her early 60s, her eyes were opened to possibilities she had not previously considered. She met like-minded people who inspired each other to take action for the future. In the early 80's she, together with a small group of about 10 people, established the local climate alliance (Klima-Bündnis). Whilst they faced a lot of eye-rolling and comments, they soldiered on with projects like the above mentioned wind-turbine which still stands proudly today, along side 5 others. They also started a cork collection initiative, which is still running, that ensures corks are recycled into effective, ecological insulation material.

   


Take away #4 – What may seem trivial can have decades of positive impact. Be proud and act on visions for ecological improvement. Ignore the nay-sayers!

Look beyond your own shadow & encourage – For me, Lisa's most admirable trait is that she engages and encourages people with her behaviour, but never by being overbearing, forceful or arrogant. During our weekend visit, I spoke to her daughter Susanne, who is also a champion for supporting eco-friendly behaviour. She told me how she learned so many of her ways from her mother. This can be said of all the family members I know who adopt a more considerate approach to the environment than most. Lisa, has successfully instilled important values into further generations.
Take away #5 – Lead by example

 
As of December, we will leave this lovely little nest, but I will be sure to take a wealth of lessons with me. If there is one thing this articles encourages you to do, and you are in the fortunate position to still be able to do it, then let it be having a chat to your grandparents to ask how things were when they grew up. A little cross-generational perspective would do us all good in valuing the privileges and possibilities we have today, and improving our inconsiderate convenience lifestyle habits. 
Here's to Lisa for the treasure you are. And cheers to Nana, Grandad, Grandad Peter & Granny Snell. Oh the questions I would have for you all today! 
Thanks for reading 
Your Better Me Greener 
Charlotte