Corona Virus: An Example of How Crisis Communication Can Mobilise the Masses - For Good & For Bad!
The goal of challenge #25:
Consider the power of COVID-19 crisis communication

Identify actions that could be used in future for driving sustainable development

Supporting

Sustainable Development Goal 17

; Strengthen the means of implementation and revitalise the global partnership for sustainable development
COVID-19 is showing the best and worst of our traits 
In just one week, daily life appears to have been turned upside down. There seems to only be one topic, and what a complex one it is – COVID-19!
Until now I have kept my comments and opinions away from larger group or online discussions whilst trying to digest all the information going around – and most importantly – not getting sucked in to the fear-mongering propaganda that often rears its head in such situations. I read that whilst our healthcare knowledge and abilities are better than ever and constantly improving, the fear surrounding such, arguably inevitable, outbreaks is permanently growing. That is not surprising when you consider the amount of information we are confronted with these days. Today the communication possibilities we have are so extensive and wide reaching, yet the reliable facts are fleeting and hard to identify amongst the sea of digital content. According to 'We Are Social' in 2019 57% of the world population had internet access and 45% actively used social media. This development brings good and bad sides which are clearly visible now with COVID-19. The fact that teachers are able to offer continued learning to students is great, yet the fear-driven spreading of hysteria via social media posts that encourages people to fight with strangers in supermarkets over toilet paper is embarrassing.
I want to share with you one positive and one negative personal observation I have made surrounding behaviours in response to communication about the Corona virus:
The good – there has been a rapid movement and vast communication within a short few days that has created an unprecedented awareness of the topic, and is rallying people to act considerately in order to solve the threat at hand. I have been loving all the funny memes going around, but whether through humour, emotional pleas or scientific based findings the key message is one of solidarity. The need to pull together for all our sakes.
The bad – we have seen infuriating levels of egoism and ignorance in people doing specifically what they have been told not to do. Despite the intelligence us humans have as a species, we sadly see how mindless and selfish individuals can be in either not understanding or accepting the impact their actions have on society and the planet as a whole. These are the people having so called 'Corona parties', not paying attention to their personal hygiene when sick and still in public or selfishly stock-piling ridiculous amounts of food.
An invisible global threat that is taking lives
So what are we hearing about the COVID-19 crisis:

It is an invisible force that, although hard to comprehend, is putting us in grave danger as it is currently out of control and harming humanity – put more directly – killing people.
And what is being done about it:
On an hourly basis around the world scientists and politicians are coming together, as a unified force, to publicly inform whole nations and regions about the extent of the problem. World leaders and governments are considering with earnest, and communicating scenarios of what could happen if we don't act immediately. Governments are implementing strict regulations and – important to mention – doing so at the short-term expense of economic prosperity in order to regain stability for a safer future.
A humbling amount of individuals across the world are

really listening

, and taking responsibility to change their actions to overcome the situation.

Technology and solutions that we have had for years are being used in new ways that enable continued development, work, socialisation and collaboration.

Much needed concepts and innovations not yet available are being encouraged and financially supported so they can be implemented ASAP.
How does this all tie into the goal of Better Me Green which looks at the topic of sustainable development and how self-improvement could be a path towards a better future for all. Well, from my perspective there are a fair few similarities between the issue of the global pandemic we are currently facing.
Heres a little exercise; In my first paragraph of this section above, replace the highlighted words as follows:
'COVID-19' with 'Climate'
'Humanity' – 'the plant'
'People' – 'species of all kinds'.
And then consider what sustainable development could look like if the 4 points in response to the pandemic crisis were also seriously implemented for the climate crisis.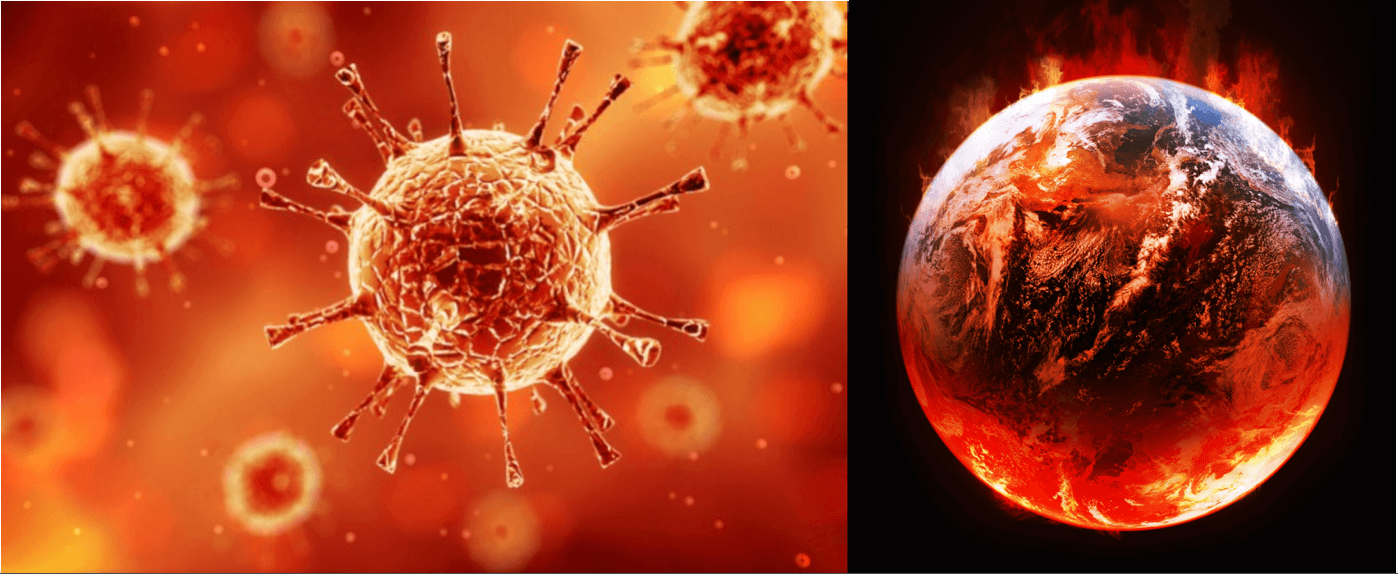 And the point is… - Well let me explain it with toilet paper!
Quite aptly for the current times, I am going to highlight my final thoughts with two YouTube videos relating to toilet paper that I saw this week.
Video 1 highlights:
We have the solutions to the problems. Perhaps they are not yet in the mainstream market and available to wider society, but they are there, ready and waiting! We just need to unleash the good intentions, collaboration … and perhaps a healthy dose of humour to spread the word mainstream.
Video 2 highlights:
What is needed, is a new vision, one that overcomes the selfish, egoistic ill-behaviour of a few greedy people. I have every faith in the majority of the population being morally upstanding and wanting a better world for all those involved.
None of us know how the impact of COVID-19 will unfold over the next months, but I do believe that if we pay attention, there are many many lessons and learnings we can take from this crisis and use in a positive way to support sustainable development initiatives going forward. If you have comments or ideas about what these could be, I would love to hear from you below in the comments section.
Thanks for reading
Your Better Me Greener
Charlotte