So you want to take steps to live more environmentally friendly - but where the devil do you start. Let's go green together!
You're feeling overwhelmed and you are not alone. Each of us juggles a multitude of tasks day in, day out: jobs, family, households, pets, not to mention a sprinkling of pandemic drama on top, so realistically there is not much time to change habits. We could leave it there, but the fact is, if you are reading this, you obviously want to try to adopt new sustainable ways. That is the super important 1st step (virtual high-five🖐 ). Finding time to do it and stick to your goals is the tricky part – fear not my friend, help is at hand!
All too often we have great intensions, but honestly they mean diddly-squat without acting on them. This is where I would L.O.V.E to help by sharing my Better Me Green experience with you in a small, fun, but most of all manageable, 6-week group course which will give you the information and inspiration to start taking small steps for which you will feel proud of. Whats more, this supportive group approach will serve as an accountability buddy to motivate you to really reduce your C02 footprint.
It's only 6 weeks and the online participation is flexible and fun. So what are you waiting for: Register for more information about the courses over the coming months, space is limited to 10 people. The first course starts in February.
Course Structure: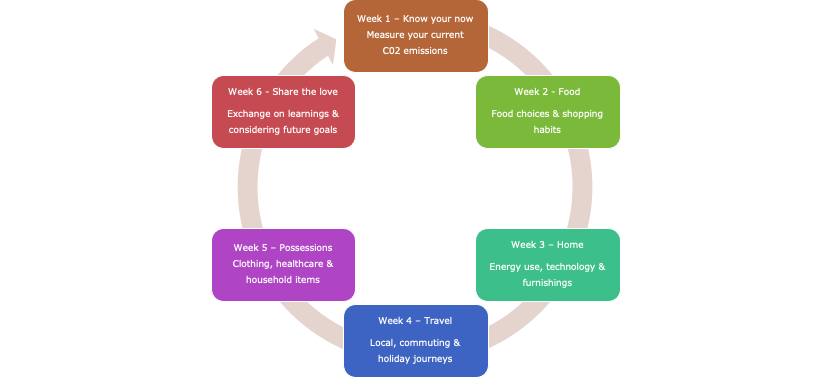 Weekly Course Communications:

What's in it for you:
Easy actionable ways to reduce C02 emissions and environmental impact regarding home-living, food, clothing & consumables and travel
Considerable long-term financial savings by adopting a conscious-consumer approach

Increasing enjoyment through owning a few

treasured, meaningful possessions, rather than lots of 'stuff'
Connect with like-minded souls to learn together, support and motivate one another
Learning to live a less cluttered life – less mess, less stress!
Better Me Green started out as a self-set challenge to change my ways and lead a more sustainable lifestyle, my 'About' page gives a little more detail. After only 1.5 years I reduced my CO2 emissions by 35%! Now I am switching the 'me' for 'we' and hope to support others in realising change is not only do-able but feels great too! I would be so happy to welcome you to these positive, fun & most importantly achievable short courses, which help us all to continue thinking and living in a more compassionate way for people & planet.
I can't wait to go green with you!
Your Better Me Greener
Charlotte